Investment Risk Management: Portfolio Risk Software
Investment risk management tools are integrated into the workflows of the Limina Investment Management System. A wide range of analytics and risk numbers are available not only as T+1 reports but also embedded in real-time into order-raising workflows and portfolio compliance.

You can reduce operational risk and enhance market risk visibility with portfolio analytics software as an integrated part of your investment operations workflows.
Best-in-class Portfolio Risk Management Software, Powered by Qontigo
Through our partnership with Qontigo, you can leverage the sophisticated Axioma Risk solutions to assess and improve your investment strategy. Capabilities include:
A suite of risk analytics tailored to meet portfolio and asset class-specific risk measurement needs
Flexible Factor Modelling:

Full repricing with Historical and Monte Carlo simulations for risk measurement
Axioma factor models available for risk decomposition across equities, fixed income (both interest and credit), commodities, macroeconomic factors

A sophisticated stress-testing framework
Flexible performance attribution:

Factor-based or Brinson-style attribution allows you to choose the most relevant approach to your investment style.
Ability to evaluate returns on a risk-adjusted basis, providing additional insight into your portfolio's performance relative to risks.
A Turnkey Investment Risk Management Solution
Delivered as an embedded offering, Limina seamlessly feeds quality-controlled IBOR data into the Axioma solution - providing several key benefits that can otherwise be challenges for standalone solutions:
Confidence that the investment portfolio data used for risk is of high quality (correct, complete and timely)
Fewer vendor relationships to manage (supported by Limina)
Quick to get started since no additional integrations are needed
Read more about what Limina is doing to
help Asset Managers overcome fragmented workflows
.
Integrations with your Portfolio Risk Tool of Choice
Beyond Axioma Risk, Limina also has pre-built integrations to 3rd-party investment risk management platforms you might already have in place. Such integrations include Bloomberg PORT & MARS, UBS Delta, and more.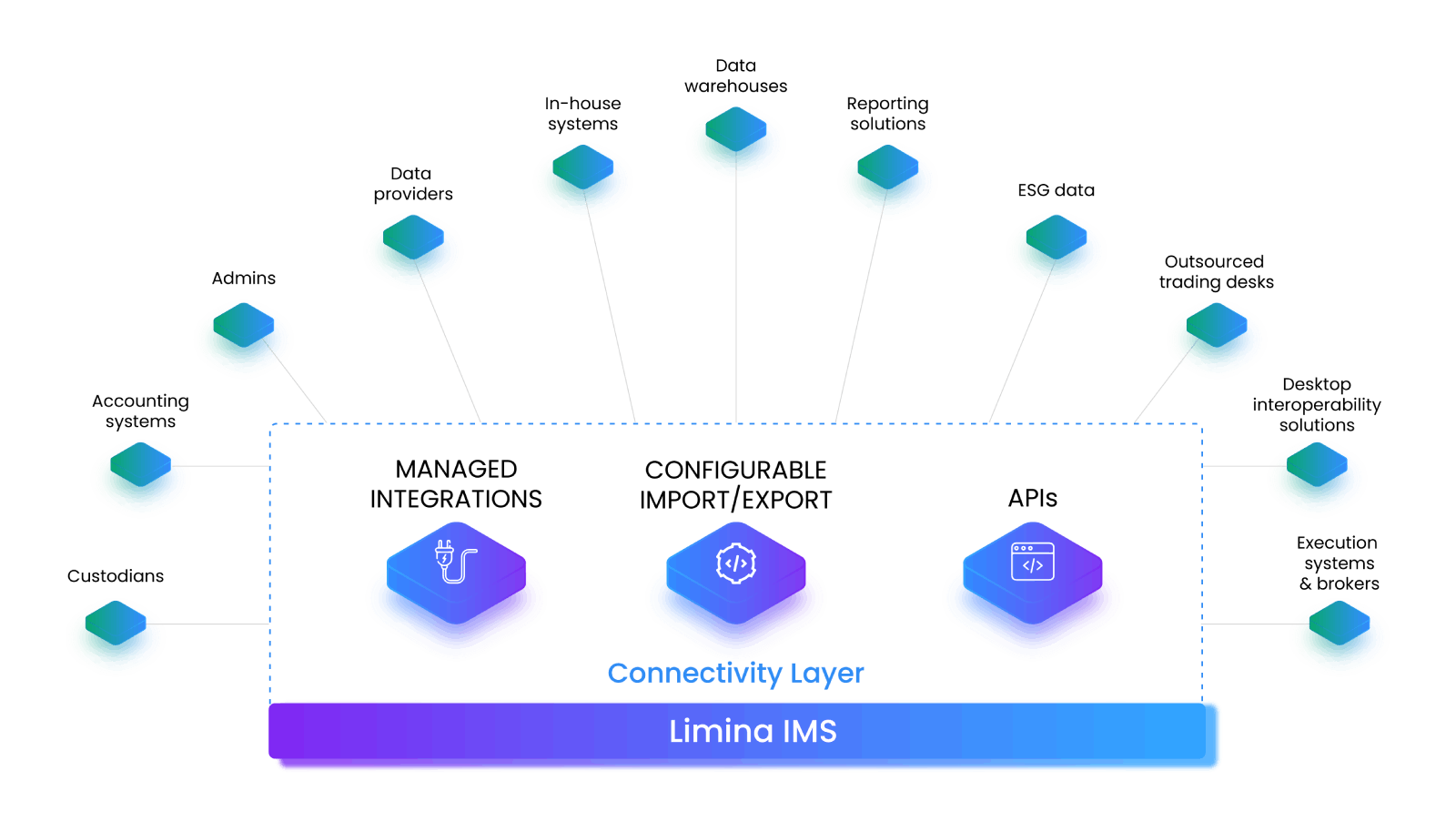 Principles
We started our mission in 2014 with a blank canvas and a set of principles that we believe are critical for how an Investment Management System (IMS) should be built and delivered:
EXCEPTION-BASED
Trusting the data in the system is essential for Front Office decisions and governance in operational processes. Your team shouldn't have to spend valuable time tracking down potential issues; the system should find and flag them automatically.
SUPPORTED BY PEERS
We believe the best customer support for Asset Managers comes when the team you work with have experience in Investment Management. Dedicated team members from the industry learn your business and can assist you most effectively.
FRONT-TO-MID & CROSS-ASSET
An IMS should be cross-asset and cover workflows from start to finish without jumping between systems. This increases productivity, allows superior oversight, and enables operational controls.