3rd Generation Cash and Position Management
At the heart of Limina IMS is a powerful Investment Book of Record (IBOR), one of only two solutions that adhere to the 2014 Global IBOR Standard. As former investment managers, we appreciate transparency. Hence, we back our statements with facts, so here is a template IBOR checklist with capabilities and a transparent comparison to Limina's IBOR.

With multi-asset and live-extract capabilities, Limina's IBOR empowers your investment team with complete and accurate portfolio views suitable for the wide range of use cases spanning the Front and Middle Office.
The Best Positions and Cash Management
A clear real-time portfolio view is of fundamental importance regardless of your investment strategy.
Specifically, without an accurate, forward-looking view of cash, firms may be forced to keep cash buffers to protect themselves against overdrafts.
In today's reality of ever-increasing fee pressure, every basis point counts – so don't lose out on valuable performance from not being able to be fully invested.
The Investment Book of Records also enables position and cash forecasting and simulations. Such capabilities are available out-of-the-box and in real-time, without reliance on batch processes or externally maintained Investment Book of Record solutions.
While there are no solutions in the market today that fully deliver the vision outlined by the IBOR Standards Working Group, Limina's platform already satisfies many of the key requirements defined in the standard and offers live extract capabilities within a modern and impressive architecture. Limina are committed to extend their IBOR capabilities over time, and, to date, have delivered to their commitments.
Ian Hunt
Co-author of the IBOR Standards Working Group paper
All Transaction and Cash States Supported in One IBOR Solution
Features enabled by the IBOR include optionality on what position state to view positions and cash: from pre-trade to allocated and matched trades. The multi-state IBOR makes the solution equally suited when simulating orders (including cash forecasting in real-time) and operations reconciling against accounting.
A consolidated IBOR platform to enable scalable operating models
The Investment Book of Records (IBOR) concept was popularised a decade ago. Now, ten years later, the benefits of establishing an IBOR are clear:
Improved basis for decision-making
Operational efficiency
Avoidance of compliance issues from different teams looking at disjointed data sets
Golden data source to power other in-house or external solutions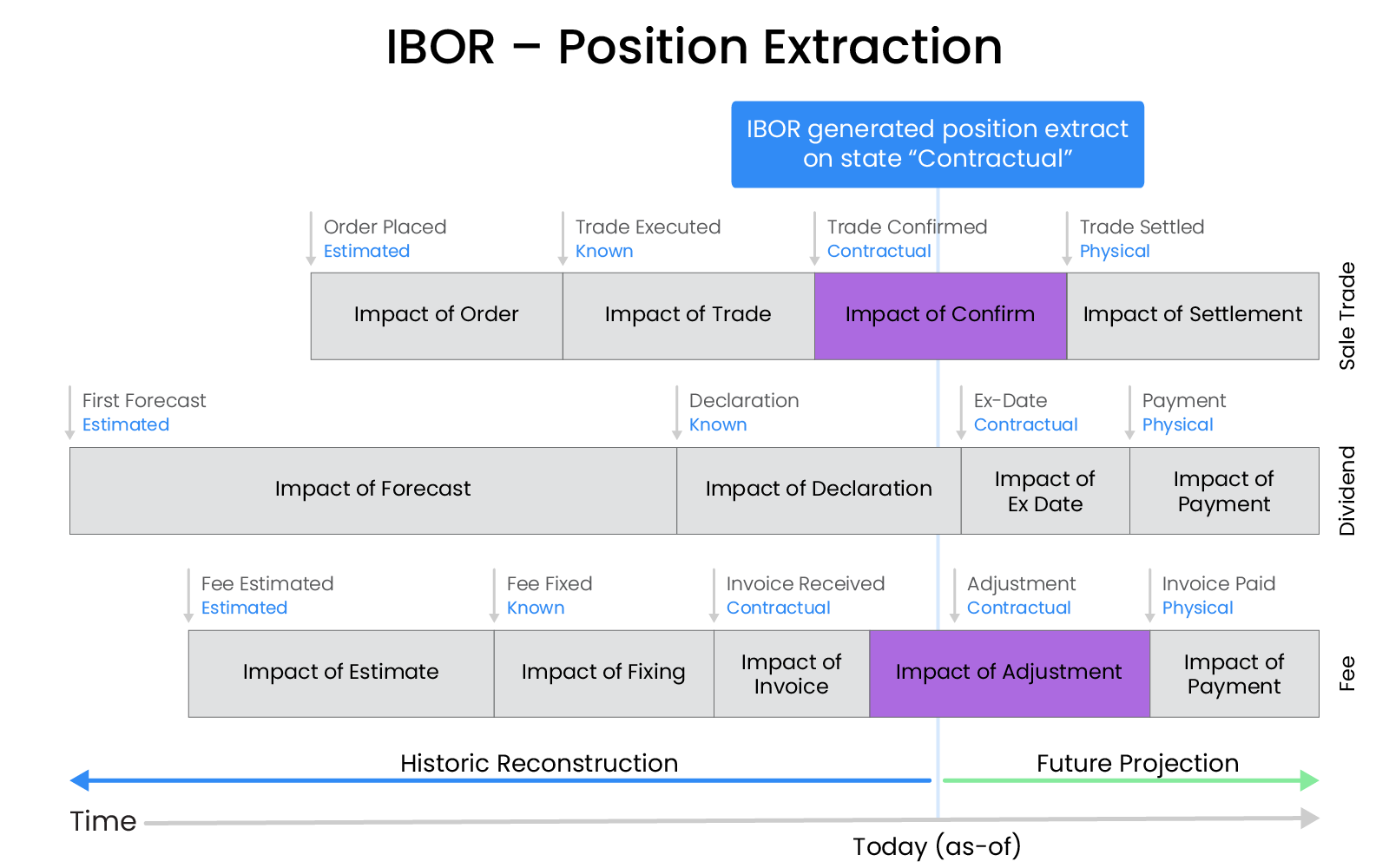 IBOR as part of an IMS
Despite these apparent benefits, we have seen two factors holding back the mass adoption of standalone IBORs:
Without combining an IBOR with functional capabilities, the business case is not as obvious, and hence, many have opted not to start projects in the first place

For many investment managers who have embarked on IBOR initiatives, it has proven difficult to reach the expected ROI due to implementations being complex, costly, and insufficiently integrated into the core workflows of the firm.
Limina Investment Manager Software addresses both challenges with its IBOR natively integrated into the core workflows of the Front and Middle Office operations. This integration is made possible through the platform being designed from the ground up as a service-based architecture with an IBOR at the heart that powers the workflows in trade order management, portfolio modelling, investment compliance monitoring and more, rather than these being separate products.
By having just one Front-to-Middle office solution, many common issues are eliminated, such as:
mapping of instrument definitions

reconciliation of quotes and valuation policies

expensive bespoke integrations



And for connectivity to other systems and service providers, Limina offer managed connections and a unique integration builder, that business users can use to set up new integrations in minutes. Follow the link for a video on how it works.
Complete Time-series Data to Support Performance, Risk, and Business Intelligence
Limina's IBOR software offers a consolidated source of real-time investment data, including bitemporal time-series data ("as at" and "as of"), with full audit and permission controls. Having both perspectives in the same solution makes Limina's IBOR suitable as a golden source of portfolio data for investment managers, which can power other solutions such as reporting solutions.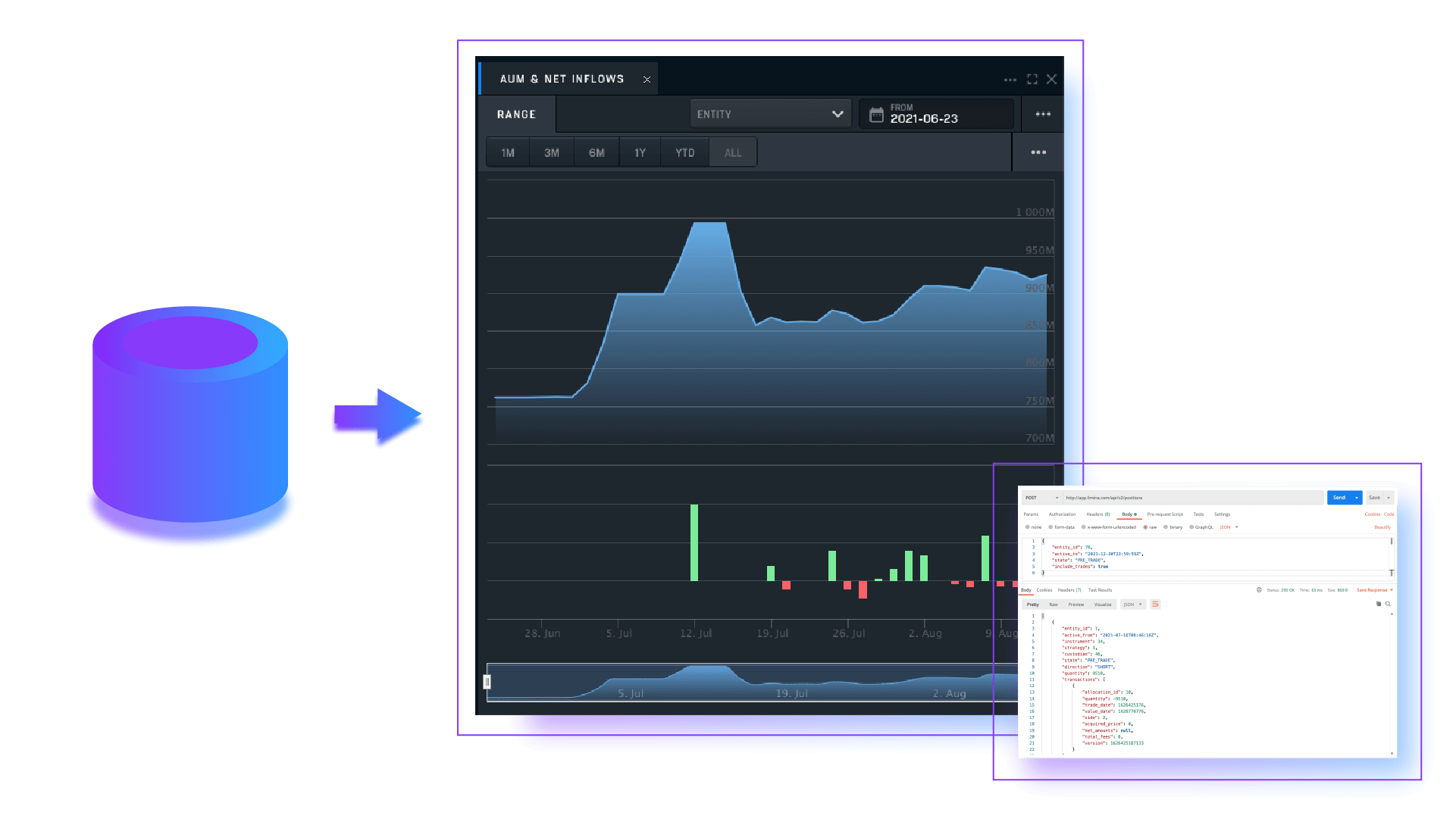 Principles
We started our mission in 2014 with a blank canvas and a set of principles that we believe are critical for how an Investment Management System (IMS) should be built and delivered:
EXCEPTION-BASED
Trusting the data in the system is essential for Front Office decisions and governance in operational processes. Your team shouldn't have to spend valuable time tracking down potential issues; the system should find and flag them automatically.
SUPPORTED BY PEERS
We believe the best customer support for Asset Managers comes when the team you work with have experience in Investment Management. Dedicated team members from the industry learn your business and can assist you most effectively.
FRONT-TO-MID & CROSS-ASSET
An IMS should be cross-asset and cover workflows from start to finish without jumping between systems. This increases productivity, allows superior oversight, and enables operational controls.