Enterprise Software-as-a-Service (SaaS) is a cloud-native system that is built to cater for the demanding needs of critical investment decision and operations workflows for asset managers. It's created to directly address the problems faced by "one-size-fits-all SaaS" such as limited upgrade flexibility and limited connectivity (openness).
In the video below, our CTO Andreas Fürst summarises some of the challenges of both one-size-fits-all SaaS and Enterprise cloud-native solutions. You can choose to watch as an introduction to the post or skip it and read on below.
Limina builds, delivers and services one product; the Limina Investment Management System (IMS), which is an Enterprise SaaS product. However, Enterprise SaaS comes with its own challenges. Never one to shy away from being blatantly honest, this article is a list of the key issues you as an asset manager or investment manager can face if you choose enterprise SaaS investment software.
If you would like to learn about all potential drawbacks with Limina's IMS, not just Enterprise SaaS challenges, you can find that out in this article. If on the other hand you would like to learn when Limina might be a great fit, you can do that by watching our video on the topic.
1. Enterprise SaaS asset management software only provides partial control over upgrades and release cycles.
For upgrades, you usually have limited choices, maybe 2 or 3 different release schedules. This is better than one-size-fits-all SaaS where there is only one choice, but it's still less than for on-premise software where you choose at your own discretion when to upgrade.

Below is an illustration of the two release cycle options offered by Limina, which serves as an example of how Enterprise SaaS release cycles work. You can pick one of two options:
If you would like to explore release cycles further, please have a look at our deep-dive post.
"With an on premise system, upgrades take a considerable amount of time and effort, and generally we upgrade annually – meaning we have to wait a long time for software improvements."
-

Head of Technology, $9bn Asset Manager, about the state before adopting Limina and why they moved
2. Enterprise SaaS asset management software connectivity and integration approaches
Enterprise SaaS doesn't offer direct access to the database for data inserts and extracts. This can feel like a significant limitation and a loss of control.
However, Enterprise SaaS (in opposition to one-size-fits-all SaaS) appreciates the reason for wanting database access and sets out to offer alternatives. Some of the tools offered to address connectivity include:
Integrations managed by the vendor ("managed integrations")
APIs (with an "API First" approach)
Configurable import/export engine (purpose built ETL tool)
Allowing database access would mean a step away from the core benefits of SaaS. Some of reasons for buying SaaS, is that you can:
Reduce costs;
Get fast access to new functionality; and
Lower overall operational risk.
If database access was allowed, those benefits would be severely compromised. We believe the alternative tools are just as valuable, albeit possibly less familiar at first.

Check out our article if you are interested to learn more about database access and other approaches to connectivity and integrations.


3. Upfront cost vs Total Cost of Ownership
Enterprise SaaS is by definition "enterprise". Compared to one-size-fits-all SaaS you can almost hear from the name that there might be a cost discrepancy between the two. This is indeed (often) the case for upfront costs.

However, Enterprise SaaS asset management software might cost you less over time. This is due to tailored workflows that means higher efficiency for your team (i.e. increased productivity) and lower risk of operational issues.

It's hard to figure out the total cost of ownership of your Portfolio Management System, Order Management System, Investment Book of Records (IBOR), so we've created an article specifically for that as well. Below is an illustration of the areas to consider:
4. How to extend and customise the system
With Enterprise SaaS, you are not given access to the source code of the IMS, PMS, IBOR or OMS. Consequently, you can't customise it through code to fit your processes and workflows.

However, Enterprise SaaS sets out to address this limitation with an (in our view better) alternative: personalisation through customisation.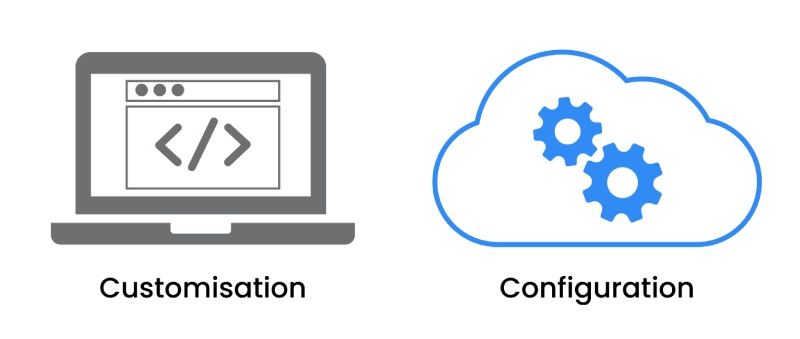 This approach sets out to categorise workflows and processes into either of two buckets
Commoditised workflows, i.e. where there is no business value for you to have a custom process. Best practice workflows give the best return on investment (ROI) and highest efficiency here. Most (but not all) back-office workflows would fall into this category.
Value adding workflows, i.e. where the majority of the business value resides. Typical examples are investment decision workflows, data governance and mandate/fund-specific limits (pre- and post-trade compliance).
Enterprise SaaS looks at the two categories above and offers a high degree of configurability in the second category, while still reaping the rewards (lowered cost and operational risk) of standardised processes in the first category.


You can read more about customisation vs configuration in our post on reasons why cloud adoption remains low among mid-sized ($1-100bn Assets under Management) asset managers.
Summary
Enterprise SaaS can come with a number of challenges to asset managers, which all need to be kept in mind as you make the change. At the same time, modern Enterprise SaaS solutions can empower your systems and processes more that one-size-fits-all or legacy systems, making the initial challenges experienced with Enterprise SaaS worth it in the long term.

If you would like to learn how Limina's IMS can help you overcome the challenges in the cloud, simply book a demo or contact us today!