Investment Data Management
The breadth of data that asset managers need to incorporate into investment workflows is ever-increasing. At the same time, ensuring the quality of this data along with the core investment data remains as crucial as ever.
With Limina, investment data management solutions are not a retrofitted or external solution but instead included as a key component of the platform, natively embedded into the various workflows. Importantly, this elevates your investment team to a new level of data oversight and data governance where data is accessible and continuously quality assured in an exception-based manner.
Confidence that your investment decisions are based on quality data

Your firm's investment decisions are only as good as the quality of the data they're based on.
For an investment management platform, this requires data to be:
Complete:

Limina IMS is a transaction-based system, meaning there are no dependencies on ove

rnight batch processes to correct cash and positions related to investments. Non-trading related records and events (including fee accruals, cash transfers, and position lifecycle events) are fully tracked, ensuring that your whole portfolio is accurately

represented at all times

.

Accurate:

Custom validation rules an

d automated data quality control checks ensure that data issues are identified and flagged early on. This, combined with exception-based workflows, ensures that your team can spend their valuable time on resolving issues proactively rather than reactively.

Timely:

In time-critical situations, as the case often is in investment workflows, it doesn't matter if t

he data is perfect - if it is not available when you need it. Limina IMS is natively a real-time system with no silos between modules, which means that data is readily available in real-time across the whole system, with no dependencies on batch processes.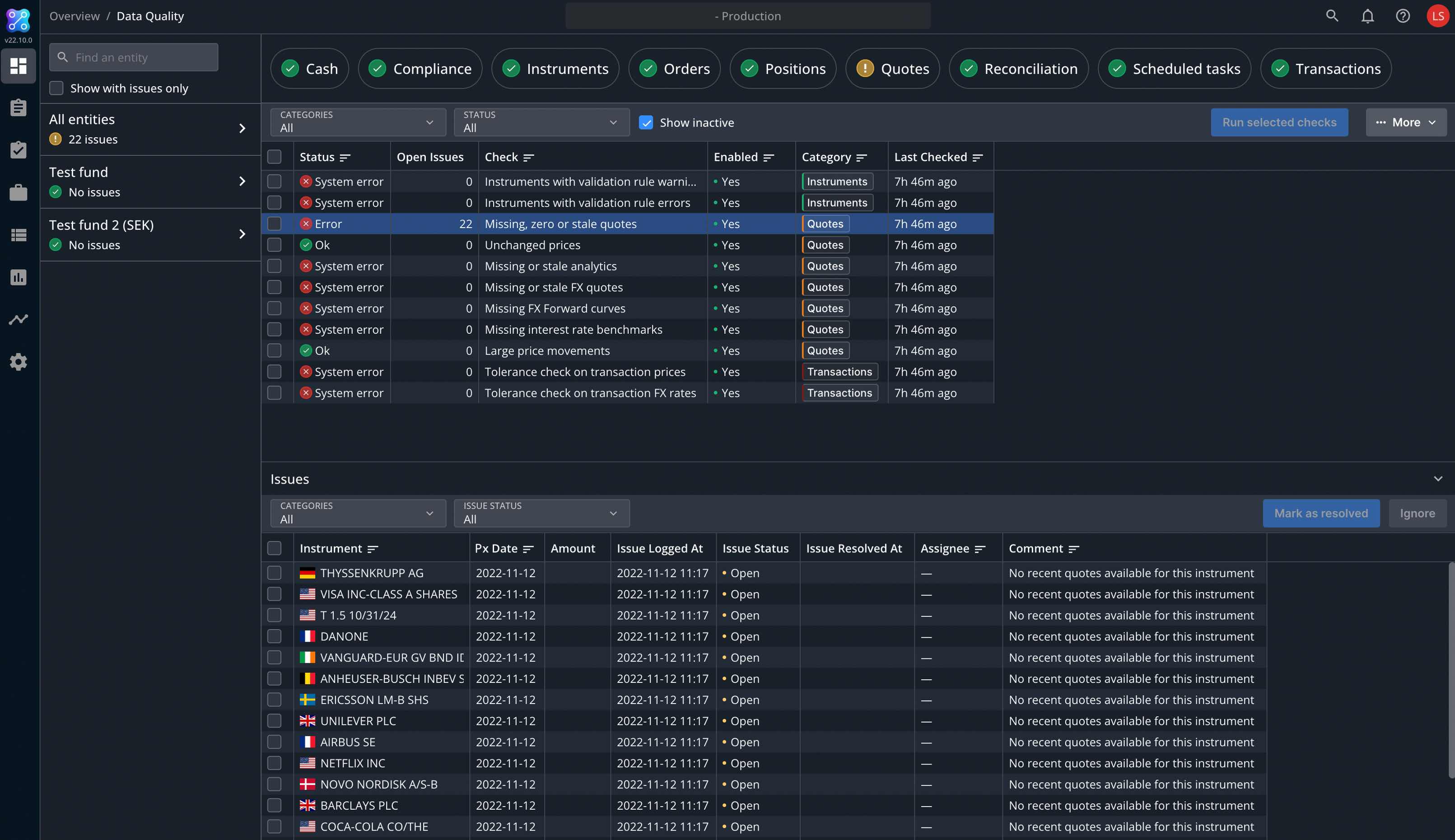 Decrease operational risk with automated data governance solutions
Remove bottlenecks in investment processes, spot issues early on before they cause problems, and free up valuable time for your team with automated data governance solutions. Limina IMS includes many automated control checks for common data issues, such as pricing issues, missing instrument setup, unprocessed orders, cash import delays, reconciliation breaks, and more.
In addition, data governance is built into key workflows, allowing for optional additional control steps (e.g., four-eye approval) when creating orders, setting up instruments, and approving transaction details ahead of affirmation/matching.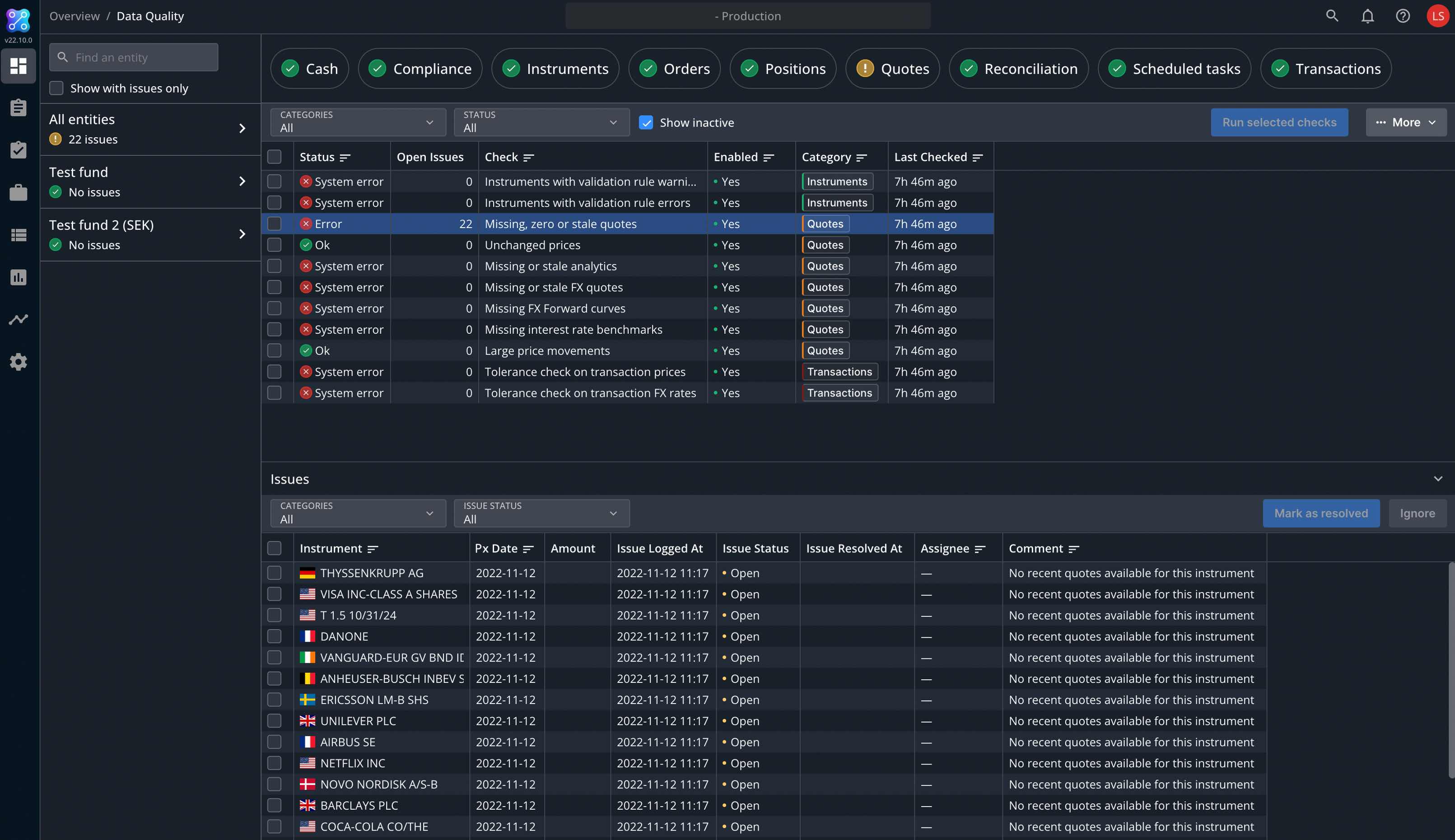 Enrich data models to see the information you need, when you need it
Limina IMS has been carefully designed with flexible data models, allowing investment managers to add information, such as analysis data, ESG data, risk classifications and more, and see it in the native portfolio views. This saves the need to set up separate data lakes or warehouses for many use cases, and allows for incorporating the data into workflows, for instance as part of pre-trade compliance checks.
Using our configurable connectivity engine, a lot of the heavy-lifting is saved by automating the imports – without any IT resources necessary.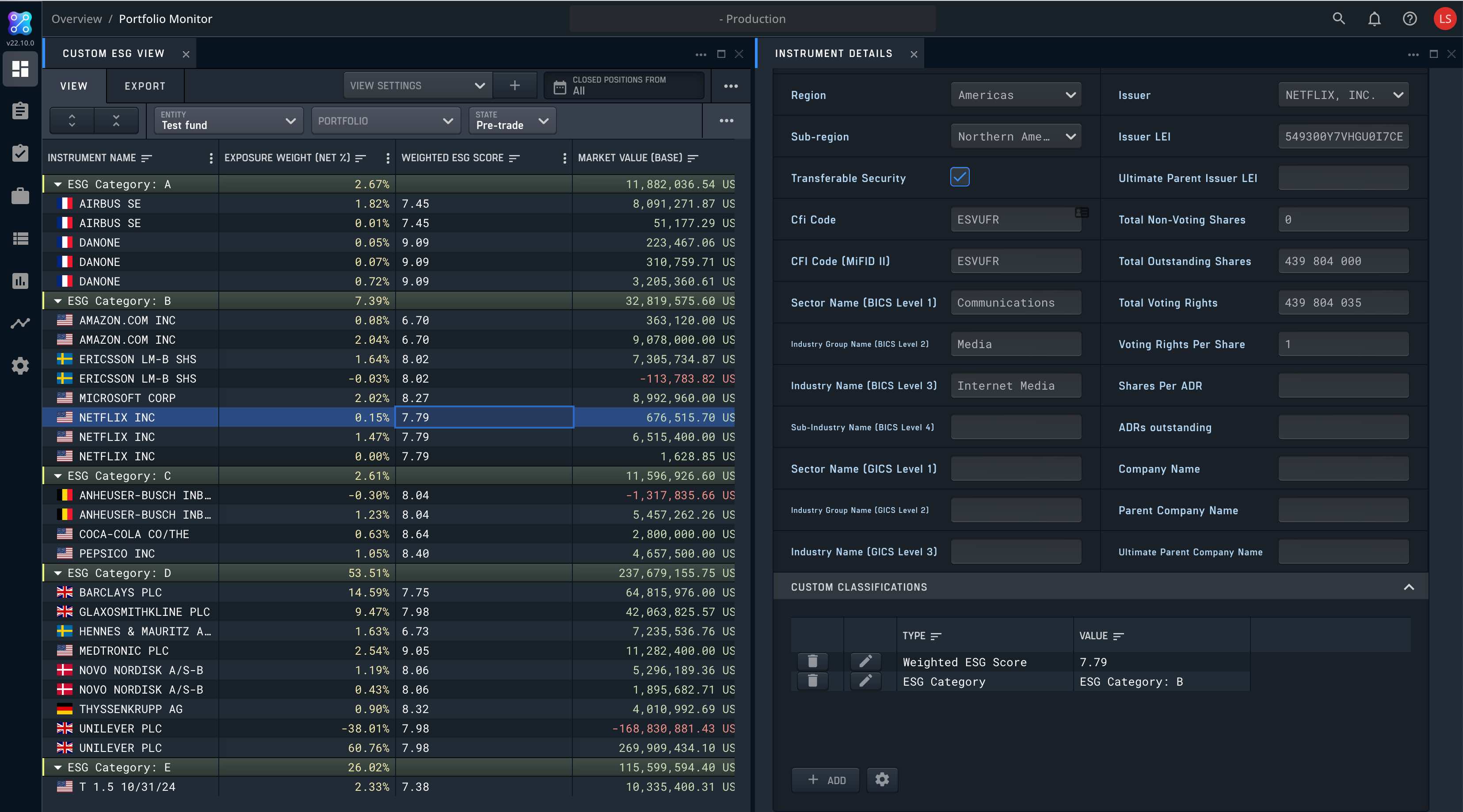 Configurable connectivity
In addition to the extensive out-of-the-box integrations available, Limina IMS also comes with powerful custom connectivity capabilities for both import and export use cases, allowing you to integrate with in-house and 3rd party platforms easily.
Limina's unique user-configurable import/export application allows for easy configuration of data integrations to and from the platform - without requiring technical expertise. The intuitive user experience allows your domain experts (e.g., middle office) to smoothly set up their own imports of data, such as cash records, index constituents, model portfolio weights, and ESG classifications. By giving these capabilities to the domain experts, it allows for:
Greatly accelerated time-to-market due to no IT resource dependencies, as well as no "lost in translation" issues when converting business requirements to technical designs
Higher overall automation level since integrations that otherwise wouldn't be feasible due to the IT cost now can be set up with a few clicks of a button
Remove dependency on the vendor to maintain and/or change integrations
In addition, Limina IMS's API-first design has full API coverage, allowing any bespoke integrations to be built on top of the platform.
Principles
We started our mission in 2014 with a blank canvas and a set of principles that we believe are critical for how an investment management solution (IMS) should be built and delivered:
OPEN
The choice of IMS should not dictate which other providers you can use. We design our platform to be 3rd party-agnostic and embrace connectivity. In doing so, you can design the optimal operating model for your firm and give front office the workflows they need to deliver alpha.
EXCEPTION-BASED
Being able to trust the data in the system is equally paramount for Front Office decisions as well as governance processes. Your team shouldn't have to spend valuable time tracking down potential issues; issues should be found and flagged automatically.
SUPPORTED BY PEOPLE THAT UNDERSTAND YOU
Our Product and Client Relations teams work closely with you and act as an extension of your own team. Our solutions are there to empower users, to make every day at work a bit easier.
HOLISTIC
An IMS should be cross-asset and facilitate holistic workflows, to allow for proper oversight and controls including portfolio compliance. With an open IMS at the core, asset-class specific capabilities such as analytics and execution can be integrated into the workflows.